Workshop Objectives
The objective of these programs is to build a child's confidence and self-esteem through etiquette. Etiquette knowledge offers many advantages to help prepare children for growing years.
Our programs are fun, informative and interactive. Courtesy and respect are taught through role playing exercises.
The role playing exercises increase motivation and develop positive attitudes towards learning and applying everyday etiquette.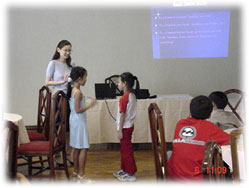 What your child will learn:

Basic Social Skills 

Greetings: Saying hello, introducing self and others using correct / acceptable forms of greetings and mannerism towards friends, peers' parents when you visit them at their home, guests who come to your house, Thanking.Bidding farewell: Saying goodbye, thanking your host/hostess
Graciousness: Saying "Thank you", "Sorry", "Excuse me", "Please", "May I" and offering words of appreciation, praise, congratulations, consolation to others.
Practice Consideration and Courtesy
Telephone skills – Basic phone skills – "Hello", "Hold on please" (Fun with role play on phone for practice).
Making calls, answering calls, asking caller's identity.

How to be the best-behaved child

Party Manners
Best behavior at a party
Restaurant Manners
Best behavior in a restaurant
Guest Manners in Others' Homes
Best behavior in others' homes
Be appropriately dressed and groomed – attending concerts, fine dining, etc
Deportment and posture – walking, sitting, standing & facial expressions.